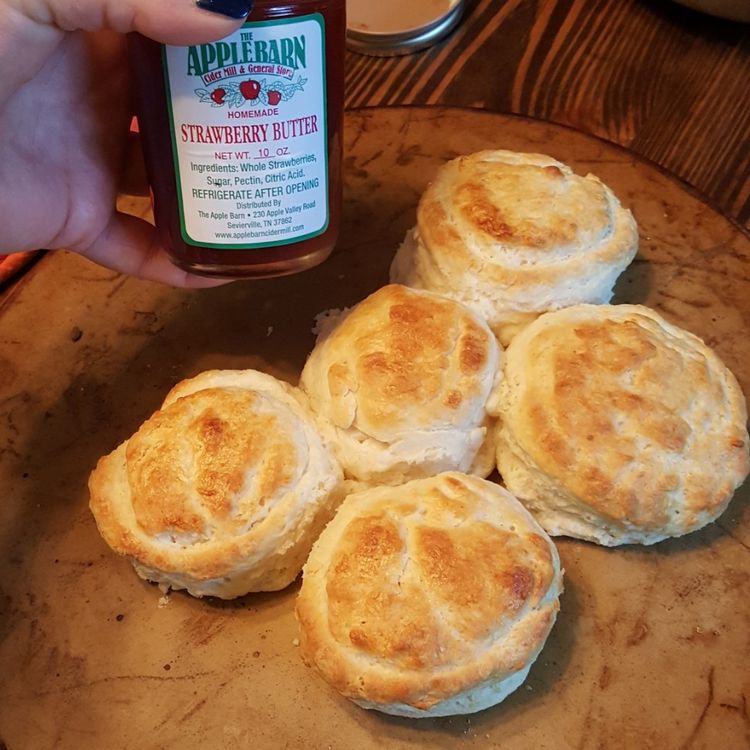 3 ingredient biscuits that will change your life? I know it's a big claim, but how about if I told you you can make tall, fluffy, moist biscuits in minutes, and I'll even throw in a prep ahead tip that makes them crazy convenient. You're gonna love them, and your family's gonna love you ?
Biscuits are delicious but they shouldn't be difficult or time consuming to make, we've all got better things to do.
My easy method for making simple, high rise, fluffy biscuits is the best I've found. And good news, it takes just minutes of your time.
What you'll need for 3 ingredient biscuits
Self rising flour ~ I used White Lily Self Rising Flour, people from the south rave about this stuff, so I ordered some from Amazon to check it out.  You can use any brand you like.
Cold butter ~ make sure it's cold, even frozen butter works!
Buttermilk ~ I buy cultured buttermilk right in the milk section of the supermarket.  It's low fat, tangy, and delicious, sort of like drinkable yogurt.
Ingredients
2

 

cups

 

self rising flour

1/4

 

cup

 

cold butter, (plus more for brushing, optional)

3/4

 

cup

 

buttermilk, cold (plus more for brushing, optional)
Instructions
Preheat oven to 450F (Give it enough time to get there, you want it hot)

Put the flour and cold butter in a food processor. You can also do this by hand. Pulse the machine 20-25 times until the butter is incorporated and the mixture is crumbly.

Remove the contents to a large bowl and stir in the buttermilk just until everything is moistened.
Turn the dough out onto a lightly floured surface and bring it together gently with your hands, but don't over work the dough. Pat or roll it out to about 1 1/2 inch inch thick. Cut out 8 biscuits with a 2 1/2″ biscuit cutter, reforming the dough if necessary.

Place on a baking sheet, in cast iron skillet, or a biscuit baker, and brush lightly with buttermilk, if desired. Bake for 10 minutes or until golden and risen.

If you like, brush the hot biscuits immediately with melted butter, and enjoy.
Notes
Notes for perfect biscuits:
Use cold butter and cold buttermilk.
Make sure to preheat your oven and give it sufficient time to get up to temperature.
Don't over work your dough.
Cut your biscuits with a sharp edged cutter and don't twist as you cut.  Cut straight up and down.