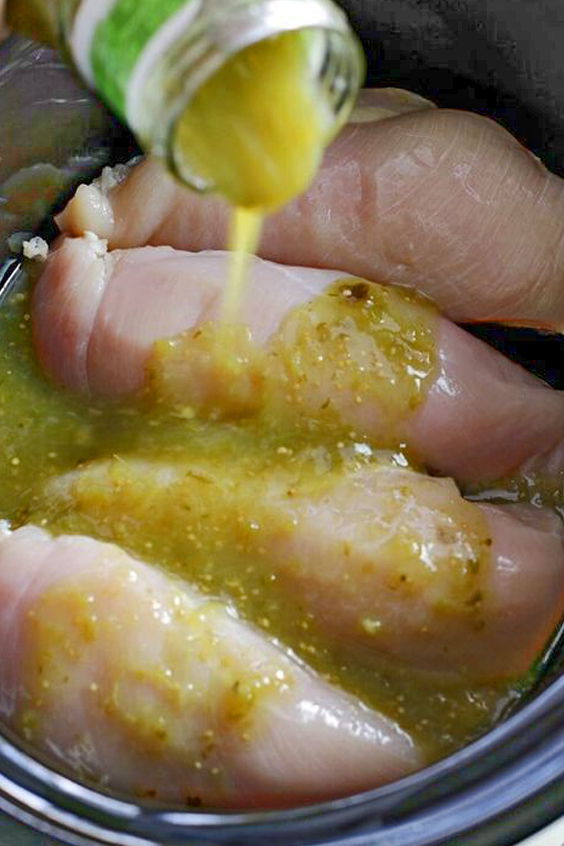 I absolutely love food blogging. But I have to confess, there's one thing about my pre-recipe-developing days that I really miss sometimes about cooking — not measuring stuff.
Before I started sharing recipes with you, I was totally "that cook" who prided herself on rarely pulling out a measuring cup or spoon. Sure, I usually had to do so for baking. But for cooking? I loved tossing in a "glug" of this here, a "pinch" of that there, a "handful" of that here, and a "sprinkle" of that there….you know, "eyeing it". It's definitely my favorite way to cook. And arguably, it's the way that people have cooked for most of history and still continue to cook today in most countries around the world.
INGREDIENTS
6

 boneless, skinless chicken breasts

2 cup

s salsa verde

1

 bottle beer*

2 teaspoon

s cumin
salt and black pepper
(optional: 1 jalapeno, stem removed and diced, leaving the seeds in for extra heat if desired)
---
INSTRUCTIONS
Add chicken to the slow cooker. Top with salsa verde and beer, and sprinkle with cumin and season with a few generous pinches of salt and a pinch of pepper. Use a pair of tons or a spoon to turn the chicken so that both sides are coated. Cover. Cook for 3-4 hours on high heat, or 7-8 hours on low heat.
The chicken is ready when easily shreds with a fork. Shred the chicken in the slow cooker, and toss with the juices. Then remove the chicken with a slotted spoon and serve warm. Or, store the shredded chicken in a sealed container in the refrigerator for up to 5 days, or in the freezer for up to 3 months.
*If you want to make this gluten-free, you can either use gluten-free beer. Or replace the beer with chicken broth.