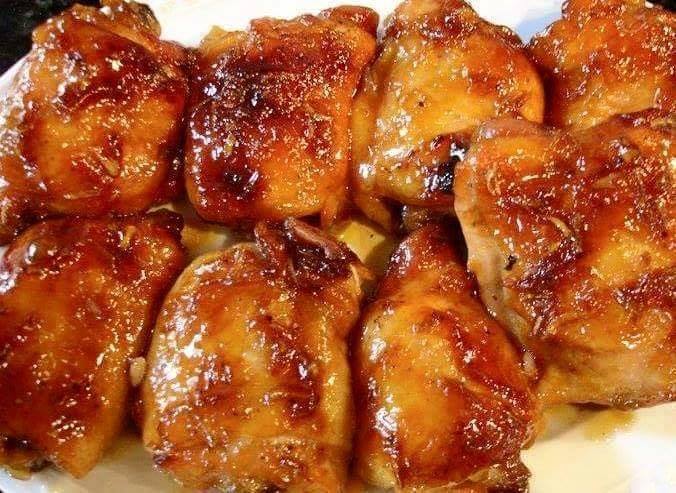 Just 4 ingredients is all you need for the best chicken marinade!
Over the weekend we fired up the grill. My husband makes the best grilled chicken, he has it down to a science. A few extra minutes can either make it or break it. This marinade plus the grilling method makes the best grilled chicken! Our friends shared this quick marinade with us last Summer, and I have to say…we love it! It's now my go to marinade when it comes to chicken.
It's the perfect solution for when your brown sugar gets too hard for baking, because it dissolves right into the liquid of the marinade. Technically speaking…I did not measure the brown sugar exact here, but that's the beauty of cooking vs. baking, right?!
This is a 4 ingredient dish that will become one of your go-to dishes. You can make ahead first thing in the morning up to the point of baking, place in the refrigerator, then just pop in the oven for a little over an hour, add a side and a tossed green salad. Dinner is served!
8 chicken thighs – You can use a whole chicken or other parts. We love thighs the best. And we want them on the bone with the skin.
1 package dry french onion soup mix
1 (8 oz bottle) Russian dressing (I prefer Wishbone Russian dressing)
1 small jar of apricot preserves or about a cupful.
Instructions
Mix all ingredients, except chicken, in a bowl.
Place chicken pieces in a baking pan. Sprinkle with pepper. No extra salt is needed.
Pour sauce over chicken and make sure it's coated well.
Roast uncovered at 400 degrees for 1 hour to 1 hour and 15 minutes until chicken is done. Baste several times during cooking. This is the way the chicken will look when done.