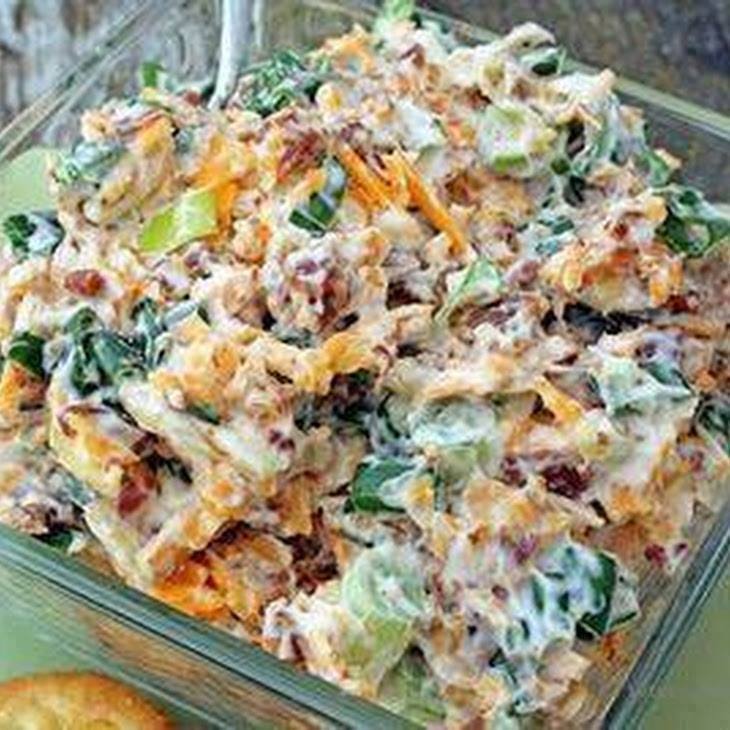 5 Million Dollar Dip is only 5 ingredients and they don't call it million dollar dip for nothing!  It is so deliciously addicting and will be the biggest hit wherever it goes! 
Can I just say how much I love my readers and fans?  I hope you know how much I appreciate all of your amazing comments and support in keeping this blog going.  I especially love when readers send me messages and recipes that they want me to try.  This recipe was sent to me from a reader telling me that I have to try it!
With it being only 5 ingredients and taking 5 minutes to make, I couldn't wait to make it for our football party!
This dip has mayonnaise, green onions, cheddar cheese, and bacon bits. If you are looking to substitute the mayonnaise you can use greek yogurt, or even sour cream, but the mayonnaise is a key ingredient in bringing this dip all together. I loved all of the ingredients in this dip and the slivered almonds were my favorite part! They added the perfect crunch to this dip.
It is a MUST make dip for your next football party or gathering. Everyone won't be able to get enough of it! You will quickly see why it is called a Million Dollar Dip!
Ingredients
5 green onions,chopped
8 oz cheddar cheese,shredded
1 1/2 cups mayonnaise
1/4 cup real bacon bits
1/4 cup slivered almonds opt
How to make it :
Mix the onions,cheese,mayo,bacon bits and silvered almonds together.Chill for 2 hours.Serve with favorite crackers.
Source : Allrecipes.com