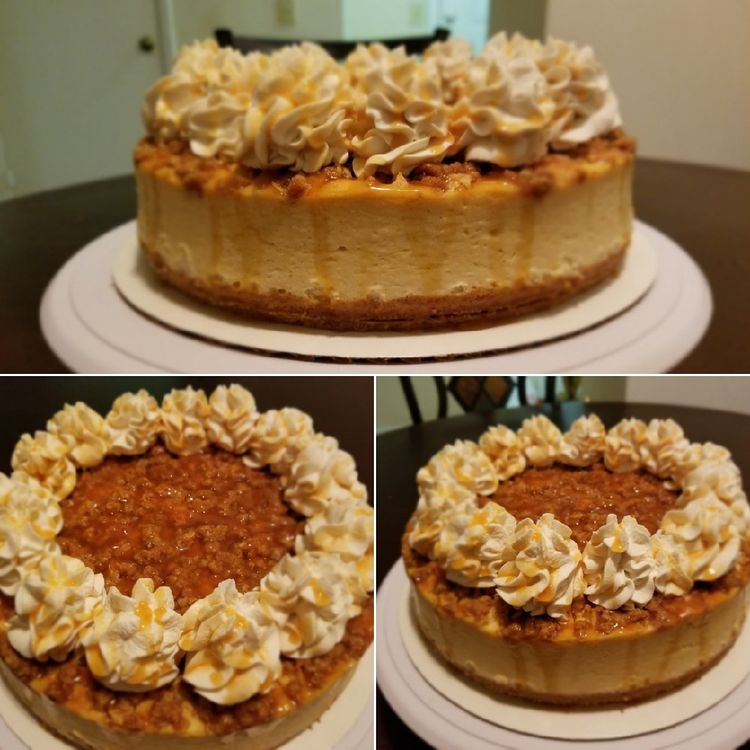 Enjoy a slice of this Apple Crisp Cheesecake this fall. This decadent dessert is a combination of creamy cheesecake and sweet apple crisp. It's the best of both worlds.
Now that September is here, all I want to do is bake apple desserts.  Do you have months where you need/have to bake a certain thing.  You know what I mean, right?
For me it looks like this. January is for coconut and healthy dinners. February is obviously chocolate. March and April are carrot treats. May, June, and July are all about salads and no bake desserts.
August is the time to use up that extra zucchini. September is apple. October is pumpkin and Halloween. November is pie and Thanksgiving sides, and December is cookies and peppermint.
With September already started, I had to go buy some apples and start working on some yummy fall recipes. And let me tell you, this one will not disappoint you. We had a hard time resisting this amazing apple cheesecake because it tasted so good.
INGREDIENTS
FOR THE CRUST
Cooking spray
12 graham crackers, crushed
6 tbsp. melted butter
1 tsp. ground cinnamon
1/4 c. granulated sugar
1/4 tsp. kosher salt
FOR THE CHEESECAKE
4 (8-oz.) blocks cream cheese, softened
1/4 c. caramel sauce, plus more for drizzling
1/4 c. granulated sugar
3 large eggs
1/4 c. sour cream
1 tsp. pure vanilla extract
2 tbsp. all-purpose our
1/2 tsp. kosher salt
1/4 tsp. ground cinnamon
FOR THE TOPPING
1/4 c. packed brown sugar
1/4 c. all-purpose ou
1/4 c. old fashioned oats
1/2 tsp. ground cinnamon
1/4 tsp. kosher salt
4 tbsp. butter, softened
1 apple, peeled and nely chopped
Whipped topping, for garnish (optional)
Preheat oven to 325° and grease an 8″ or 9″ springform pan with cooking spray.
Make crust: In a large bowl, mix together graham cracker crumbs, melted butter, cinnamon, sugar, and salt. Press into bottom of prepared pan and up the sides.
In a large bowl using a hand mixer (or in the bowl of a stand mixer), beat cream cheese, caramel, and sugar together until completely smooth. Add eggs, one at a time, then stir in sour cream and vanilla. Add flour, salt, and cinnamon and beat until just combined. Pour mixture over crust.
In a medium bowl, whisk together brown sugar, flour, oats, cinnamon, and salt, then cut in butter with a fork or pastry cutter. Scatter apples in an even layer over top of cheesecake, then top with an even layer of the oat topping.
Wrap bottom of pan in aluminum foil and place in a large roasting pan. Pour in enough boiling water to come up halfway in the baking pan. Bake until center of cheesecake only slightly jiggles, about 1 hour 30 minutes.
Turn off oven, prop open oven door, and let cheesecake cool in oven, 1 hour. Remove foil and refrigerate cheesecake for at least 4 hours and up to overnight.
When ready to serve, drizzle with caramel and serve slices topped with whipped topping, if desired.