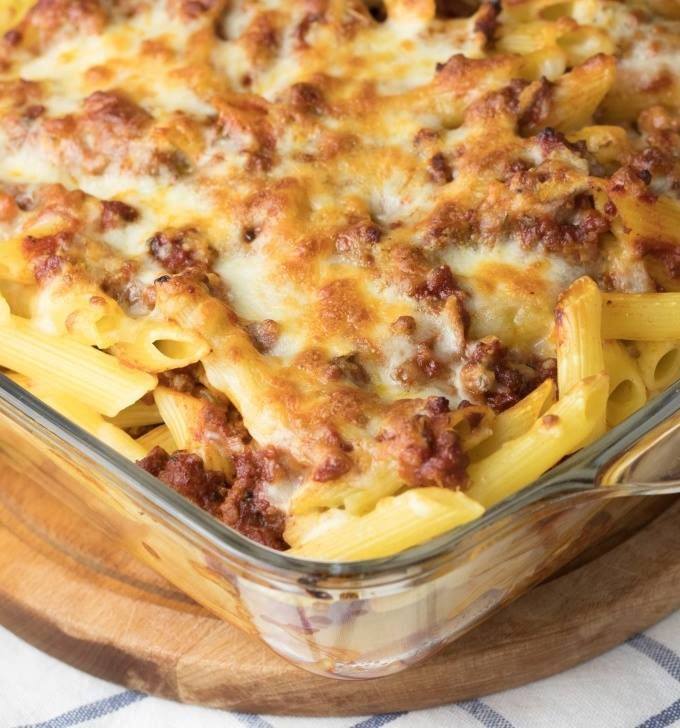 Ahhhh, chili mac. We just love it when two comfort foods come together and join as one, don't you? And with chili mac, you've got the hearty spiciness of chili and the warming cheesiness of mac and cheese. It's all good stuff. Our mom always made chili mac in a quick, stovetop fashion, and it was comforting and tasty as can be… but we've taken it one step further.
See, with this chili mac, we've taken our inspiration from a true baked mac and cheese (which we've always had an affinity for) and we've come up with one satisfying, scrumptious Baked Cheesy Chili Mac. And if you ask us, it's basically happiness in a casserole dish.
We've used penne instead of true macaroni because we like the denser bite it lends to the dish, but you can always use macaroni if you prefer. The chili mixture is just a quickly-cooked blend of ground beef, onion, garlic, some canned tomatoes and green chilies, and a touch of cumin and chili powder. That is all mixed together with some sour cream and a generous helping of cheese so you can be sure that you're still getting a good dose of creaminess alongside the zestiness of the chili flavors.
Another dusting of cheese over the top finishes it off (because if you're going to do a pasta bake, do it right), and the whole thing gets hot and gooey in the oven. This kind of dish brings that satisfaction that only childhood comfort food can. It's a little bit spicy, a whole lot cheesy, and chock full of goodness.
INGREDIENTS
2 lbs ground beef
1 lb (16 oz) penne pasta
2 1/2 cups Mexican cheese blend, grated and divided
2 cups (16 oz) sour cream
1 can (10 oz) diced tomatoes and green chilies
1 can (14 oz) crushed tomatoes, undrained
1 small onion, chopped
1-2 cloves garlic, minced
2 tablespoons chili powder
1/2 teaspoon ground cumin
Kosher salt and freshly ground pepper, to taste
PREPARATION
Preheat oven to 350°F and lightly grease a 9×12-inch baking dish with nonstick cooking spray. Set aside.
Bring a large pot of salted water to a boil and cook pasta 2 minutes less than package directions indicate. Drain well.
Meanwhile, in a large heavy-bottomed pot, cook ground beef and onion over medium heat until beef is no longer pink, about 8 minutes. Add garlic and cook 2 minutes more.
Stir in tomatoes, tomatoes and green chilies, chili powder, and cumin. Season liberally with salt and pepper.
Add in drained pasta, as well as sour cream and 1 1/2 cups of the cheese. Stir to combine. Transfer into prepared baking dish and top with remaining cheese.
Bake until bubbly and cheese is melted, about 20 minutes. Let sit 5 minutes before serving. Enjoy!