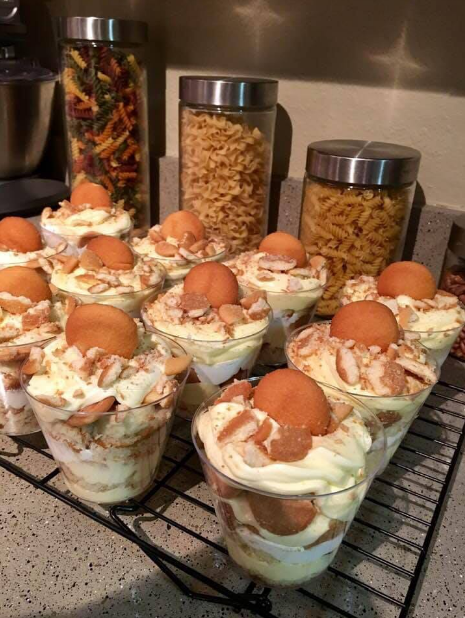 These Homemade Banana Pudding Cups are filled with banana slices, vanilla wafers, homemade vanilla pudding, and freshly whipped cream. What more could one want?
If you haven't tried making homemade vanilla pudding you are missing out. It tastes so much better and really makes these pudding cups extra special!
I pulled these homemade banana pudding cups up from the archives. Their pictures needed some attention and I completely scraped the text. It's kind of fun going back through my old posts.
I can remember the day I made that particular item and whether it has become a family favorite or not.
Well, these pudding cups are for sure a family favorite. I don't make these as often as just plain homemade vanilla pudding, mostly because I don't have vanilla wafers on hand.
But when I do, my kids (and hubby) go crazy for these. It could be that they are in their own little cup which somehow makes them extra special.
Ingredients
1 box Betty Crocker™ Super Moist™ vanilla cake mix.
1 box (4-serving size) banana cream instant pudding and pie filling mix.
1 cup milk.
1/2 cup vegetable oil.
3 eggs.
1 cup mashed ripe bananas (2 medium).
45 vanilla wafer cookies, crushed (2 cups).
6 cups Cool Whip frozen whipped topping, thawed.
15 vanilla wafer cookies, coarsely crushed (2/3 cup).
24 dried banana chips.
Directions
Heat oven to 350°F (325°F for dark or nonstick pans). Place paper baking cup in each of 24 regular-size muffin cups.
In large bowl, beat cake mix, pudding mix, milk, oil and eggs with electric mixer on low speed 30 seconds. Beat on medium speed 2 minutes, scraping bowl occasionally. Stir in mashed bananas and 2 cups crushed cookies. Divide batter evenly among muffin cups.
Bake 25 to 30 minutes or until toothpick inserted in center comes out clean. Cool 10 minutes; remove from pans to cooling racks. Cool completely.
Frost cupcakes with whipped topping. Sprinkle with 2/3 cup crushed cookies. Top with banana chips.