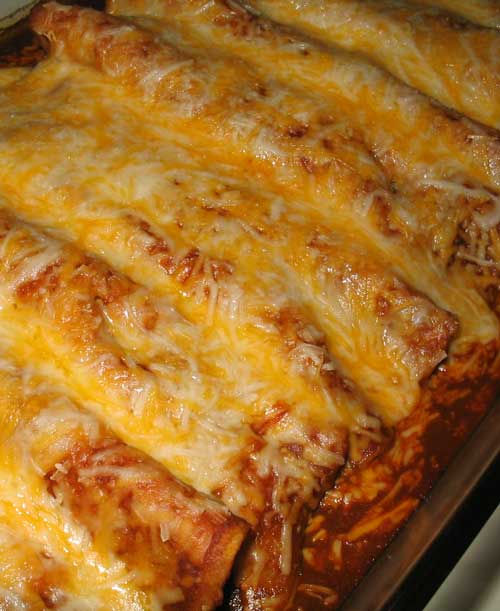 This easy beef and bean enchilada recipe comes together quickly and is on table in minutes, making these enchiladas perfect for a weeknight supper!
If there is one thing that I rely on, it is simple weeknight suppers! With busy daily schedules and other family activities, I love having an arsenal of simple, scrumptious recipes to feed my family. These Beef and Bean Enchiladas are definitely one of those recipes my family enjoys!
I can always trust my family to devour enchiladas when I make them – from our favorite chicken enchiladas that let the slow cooker do all the hard work to beef enchiladas that I can even make ahead of time and then just heat through and melt the cheese when we're ready for supper.
Ingredients
1 1/2 pound ground beef
1 tablespoon dried and chopped onion flakes (or small diced onions)
1 can of fried beans (16oz)
1 packet of taco seasoning
3 cans of enchilada sauce
12 corn tortillas (6 inches)
3 cups grated cheddar cheese
Instructions
Preheat the oven to 350. Lightly spray a 9×13-inch saucepan with cooking spray.
In a large skillet, brown ground beef. Drain fat. Return the meat to the pan. Stir in onion flakes, fried beans, and taco seasoning. Cook over low heat until meat is heated through. Set aside.
Heat the enchilada sauce in a saucepan over medium heat. Pour one cup of sauce into the bottom of a 9×13 inch saucepan.
Wrap tortillas in a damp paper towel. Microwave for 45-60 seconds, until tortillas are tender. Brush tortillas with enchilada sauce on both sides. Pour about 1/3 cup of meat mixture in the center of each tortilla. Top with a tablespoon of cheese. Roll up tortilla and place, seam side down, in a 9 x 13-inch saucepan. Repeat with remaining tortillas. Pour remaining sauce over tortillas. Top with remaining cheese.
Bake for 15-20 minutes, until cheese, is melted and enchiladas are heated through.