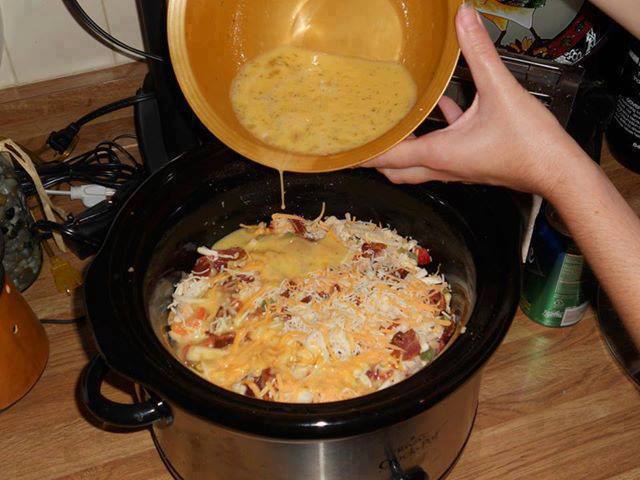 Reviews for: 
Breakfast Casserole
– This is the second slow cooker breakfast casserole I've made and I was concerned about the texture as the first one I made had an off texture. No worries with this one. I chose to use canadian bacon as my protein and added diced onion and yellow red peppers. As I was preparing it, I had leftover Russian Cheese Salad (mozz/mayo/garlic) from this site, so I added that as well, and I'm glad I did. The garlic really made this sing. This is easily customizable and came together in mere minutes. It's not the most visually appealing if you're looking to impress with presentation, but it was really nice not having to preheat the oven and wait an hour for a traditional breakfast casserole to cook. This will be one of my staple overnight guest breakfasts. THANKS for the recipe!
– excellent! Everyone loved it- done just as written with one technique change – instead of whisking the egg mixture I put it in the blender. The air whipped into it made the final result more than 2″ high in a standard oval crockpot. This kept in the moisture very well. The sausage moved up to just under the cheese crust and it was yummy. I might try the sausage in uncooked so those oils go into the hash browns. Could try peppers or other veggies mixed in with the hash browns
– This was just ok for us. It had way too many hashbrown potatoes in it. I would definitely cut those in half next time. I loved the ease of preparation and really enjoyed waking up to breakfast already cooked. With some tweaks this would be fantastic!
– This is a great base recipe. We prepared it first thing in the morning so it would be ready for brunch after church. We've made it a few times and prefer it with the hash browns that have peppers and onions added, plus we swap precooked bacon for the sausage. Be creative based on how your family likes their eggs. Cubed ham, chopped spinach or mushrooms would be great as well! Add a little hot sauce or siracha at the end and the family will gobble it up!
– The first time I made it , it was watery due to the frozen hashbrowns and a little bland. The second time I made it I used "O' Brien" potatoes , that have peppers mixed in and seasoned them very generously with salt, pepper and garlic powder before adding the other ingredients. Also have made it with bacon instead of sausage . You could do both as well. I did find that 6 hours was more than enough time on low. Overall a good idea/recipe , just need to tweak it to your tastes. Have your seasonings ready to go if you prefer bolder flavor.
Ingredients:
1 bag 26 oz. frozen hash browns
12 eggs
1 cup milk
1 tablespoon ground mustard
1 16 oz. roll sausage
maple, sage or regular sausage.
Salt and pepper
16 oz. bag shredded cheddar cheese

Directions:
1. Spray crock pot and evenly spread hash browns at the bottom.
2. Crack 12 eggs in a large bowl.
3. Mix well (and slowly) using a whisk.
4. Add the milk.
5. Go ahead and sprinkle in the ground mustard. This might sound like a weird ingredient, but I've come to love (and use) this in most of my recipes.
6. Add plenty of salt….
…and lots of fresh pepper. Mix well and set aside.
7. Cook the sausage on high heat, drain and set aside.
8. Add sausage on top of hash browns.
9. Is this enough cheese? Maybe? Probably. Throw the whole big bag in there.
10. Mix it up well. Or good, depending on where you're from.
11. Pour the egg mixture over everything in the crock pot. Using a wood spoon, even everything out so it's spread evenly.
12. Turn the crock pot on low for 6-8 hours.