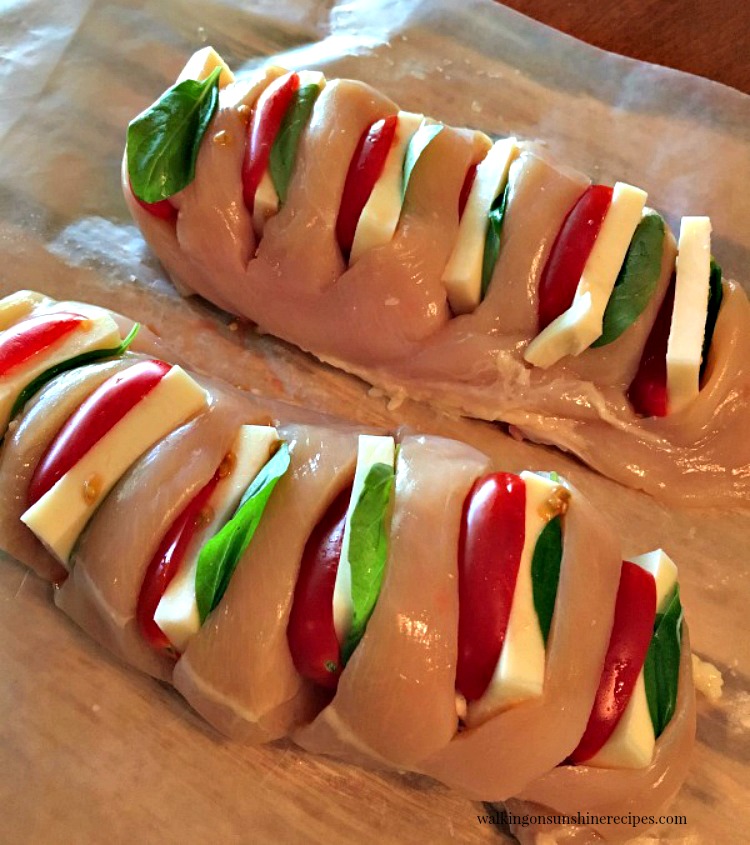 I have been on a chicken for dinner "kick" lately! And I'm making sure I take photos and write the ingredients down as I go along so I can blog about the recipes for you too. Today I'm sharing with you this amazing recipe for Hasselback Chicken Stuffed with Mozzarella, Tomato and Basil.
What is Hasselback Chicken?
The term Hasselback has been around for awhile; usually for potatoes where you make slits in the potato, like an accordion, being careful not to slice the potato all the way through. Then you stuff the slits with bacon and cheese.
Now, people are making Hasselback everything…apples, sweet potatoes and even chicken! I haven't tried Hasselback potatoes yet; have you? I'm going to soon though. And I know my son is really going to love that recipe because he loves bacon.
Helpful Kitchen Tools
This post contains affiliate links. Your cost is the same, but I earn a commission when you shop through them. For more information, click here.
You don't really need much to prepare this recipe, but here's a list of my favorite kitchen tools:
Cutting Board – I like these plastic ones that can easily be sterilized with bleach after preparing chicken.
Knife Set – a good sharp knife is essential for cutting the slits in the chicken.
Rectangle Baking Dish – pretty enough to bring to the table!
INGREDIENTS:
2 boneless, skinless chicken breasts
Sliced mozzarella cheese
Grape tomatoes; sliced in half
Fresh basil leaves
2 teaspoons Italian seasoning
Salt and Pepper
2 teaspoons olive oil
INSTRUCTIONS:
Place the chicken breasts on a cutting board. Using a sharp knife, cut slits across the chicken breast about 3/4 of the way through being careful not to cut all the way through.
Depending on the size of your chicken breast, you're going to want around 6 to 8 slits per chicken breast.
Stuff each slit with a slice of mozzarella cheese, half a grape tomato and a basil leaf.
Place the chicken breasts in a baking dish that has been coated with non-stick baking spray.
Brush each chicken breast with olive oil.
Sprinkle each chicken breast with salt, pepper and Italian seasoning.
Bake in a preheated 400 degree oven for 30 minutes or until the internal temperature of the chicken reaches 160 degrees.