This delicious, multi-layered coconut cake is courtesy of Robert Carter from the Peninsula Grill, in Charleston, South Carolina.
This cake has become one of the break out hits from my third cookbook, Sweetness. I've received so many emails saying the price of the cookbook was worth it for this one recipe alone. And if that wasn't recommendation enough, my mother's friends tell me this is the recipe she tells everyone that they just "have" to make first the moment they get that cookbook.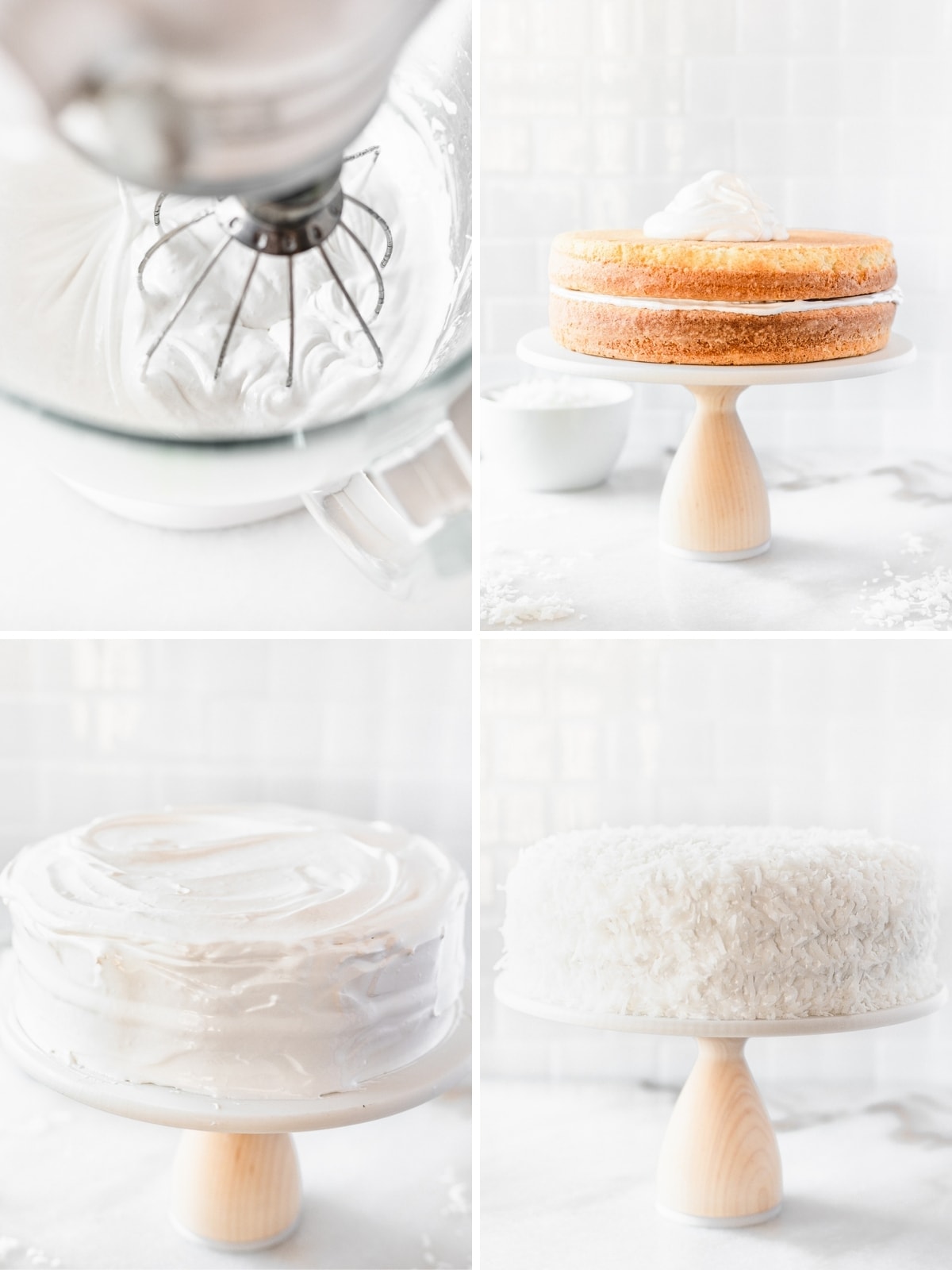 If you're looking for a show-stopping dessert to grace your table this spring, this gorgeous coconut cake is it! A moist and delicious white cake with a light and fluffy, marshmallow-like frosting and coconut flakes is the perfect dessert for all of your springtime celebrations.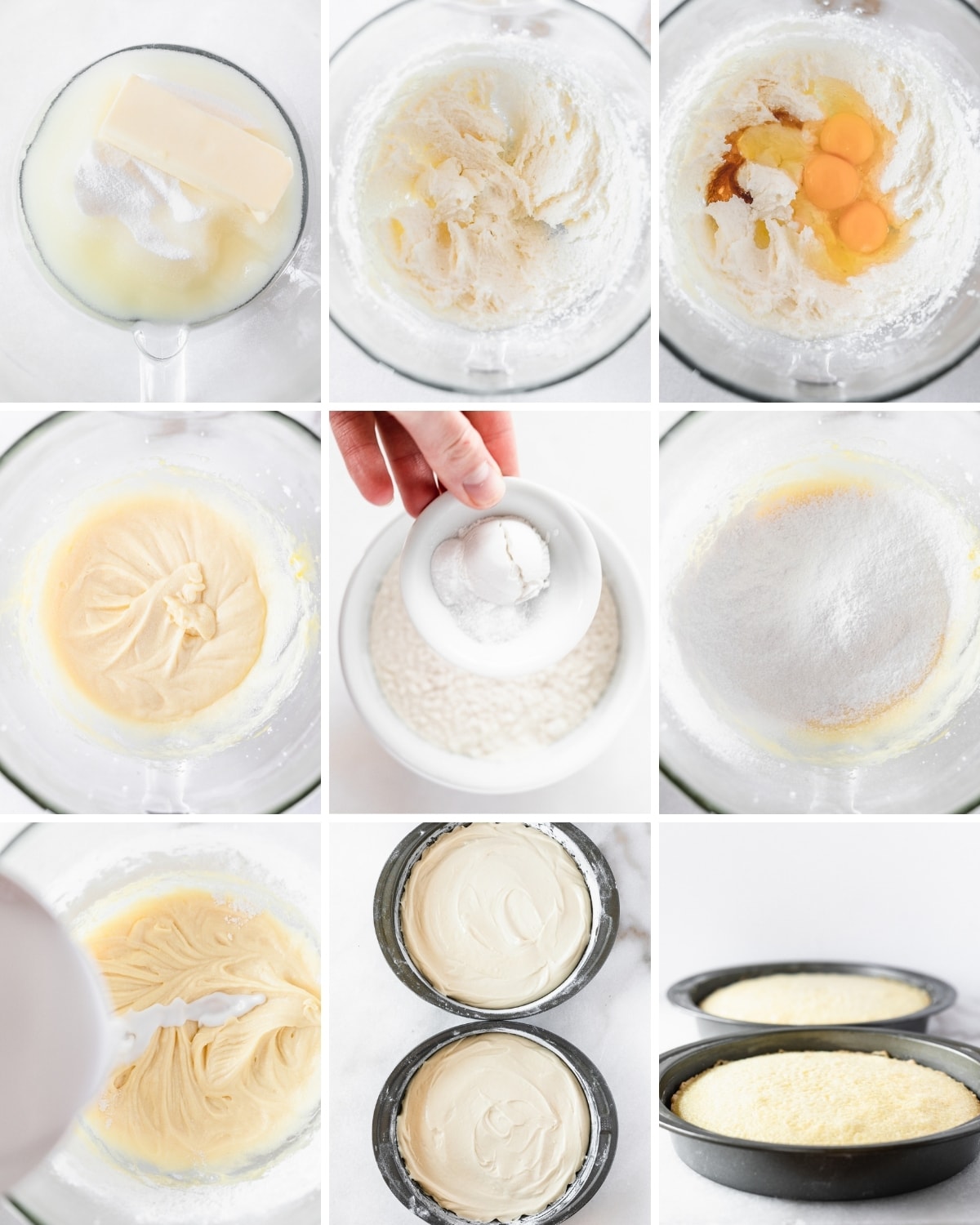 While not a traditional winter dessert, this coconut cake was always made in December in our family to celebrate my grandpa's birthday. It was his favorite cake. My birthday is also in December, so it was usually my birthday cake, too, when we had big family birthday celebrations. Which is totally fine with me, because it's so delicious!
I always thought coconut cake was more of a spring dessert, though. So I thought I'd bring it back for this month's Recipe ReDux theme, showcasing family recipes for springtime celebrations. Like many of my favorite family recipes, this coconut cake recipe always reminds me of fond memories of gathering with my family for a big meal and a good time.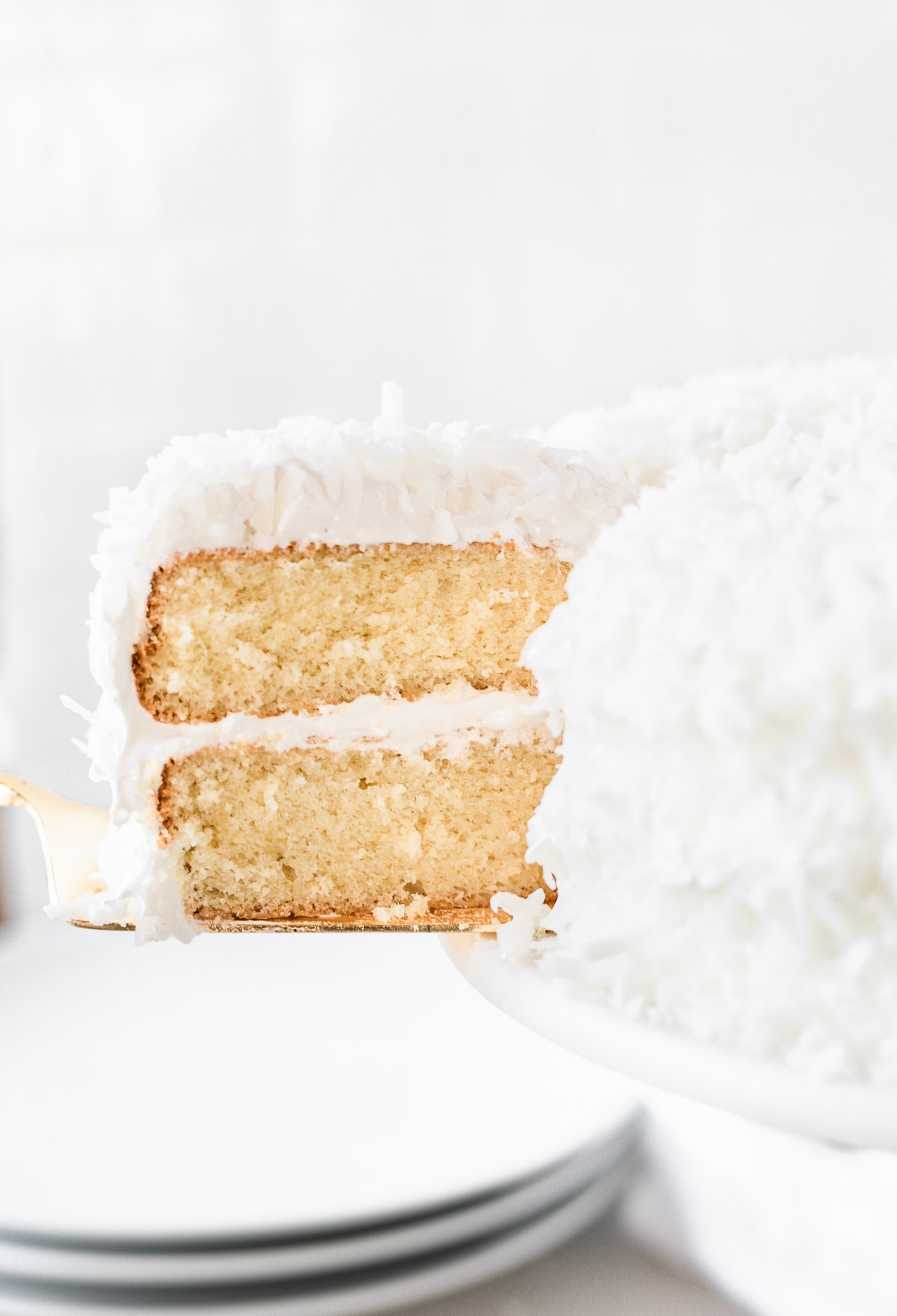 Like I've said before, I'm not much of a baker, but this white cake is fairly straight forward. For the softest, most moist cake, beat your (fresh) egg whites just until soft peaks form but try not to over-beat them. And very gently mix the batter together. The cake comes out beautifully and just sweet enough without being over-powering.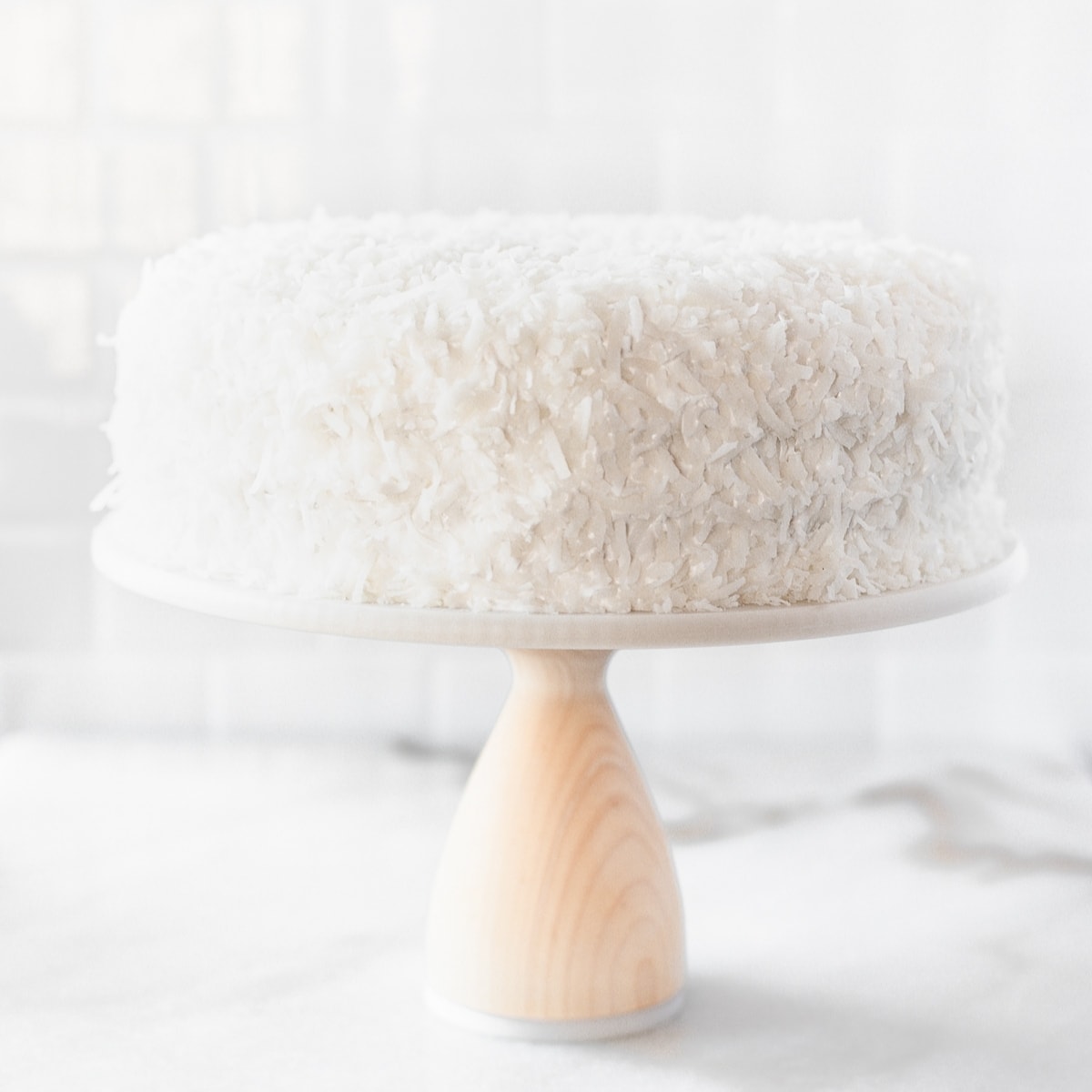 7-minute frosting always has a reputation for being finicky, but this 7-minute frosting is actually pretty easy. If you've never had it, it's deliciously light and fluffy, similar to marshmallow cream, and it's the perfect frosting for this coconut cake! Again, beat the egg whites until stiff peaks form, but not to the point of becoming dry. Then frost the cooled cake asap, as the frosting hardens as it sits. It will be too difficult to frost the cake if you let it sit too long. Then press on the coconut flakes and get ready to impress with this pretty coconut cake!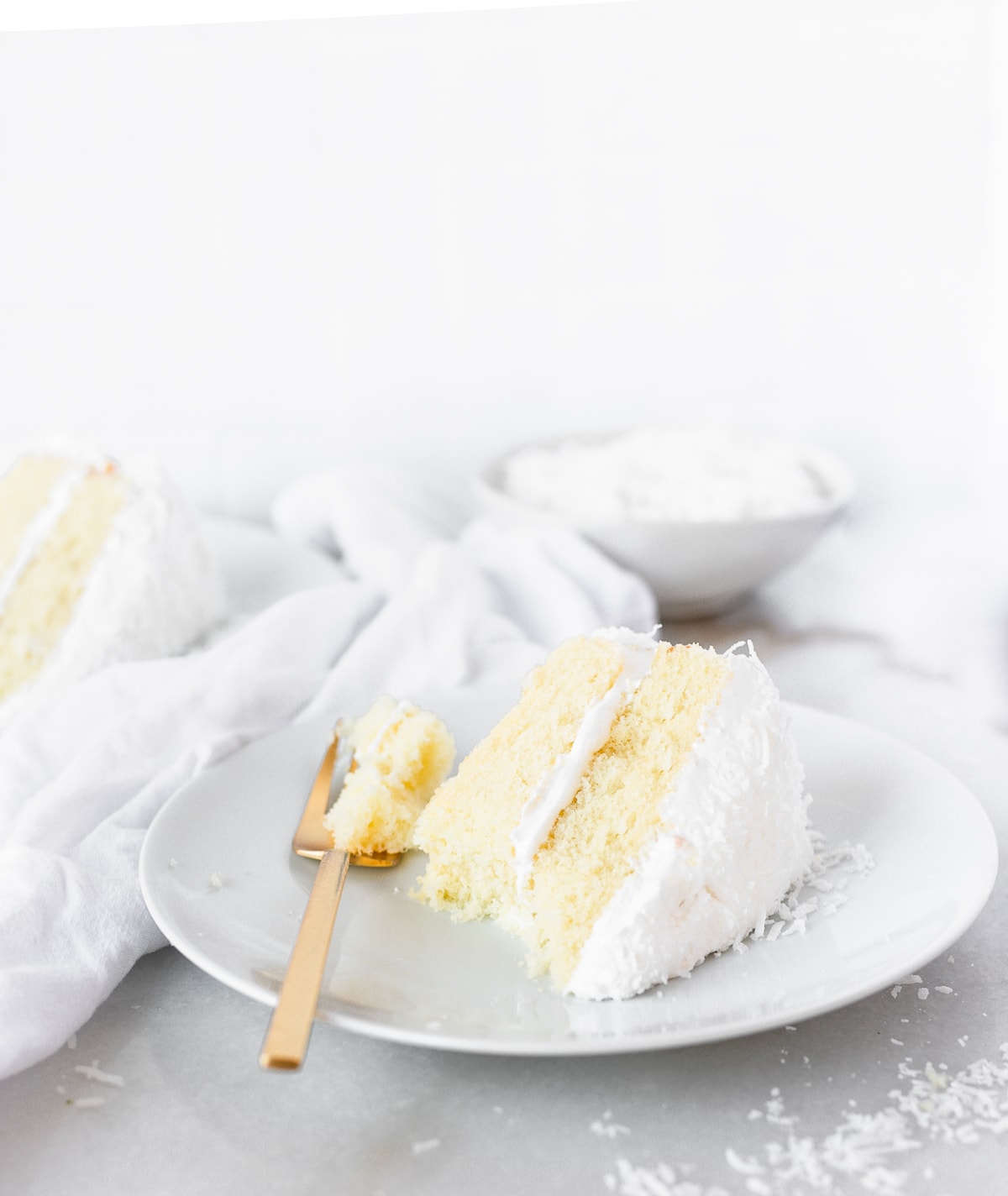 Grandpa's favorite coconut cake with 7-minute frosting is perfect for Easter, spring brunches, showers, or even winter birthday celebrations! It's a beautiful warm weather dessert that will look gorgeous on your tables and that everyone will love!
If you made this recipe, please leave a star rating in the comments!
INGREDIENTS:
1-1/2 c. Sugar,
2 Tbsp corn syrup,
1/4 c.water,
6 egg whites,
tsp. Vanilla
INSTRUCTIONS:
In a heat proof bowl of an electric mixer, mix all ingredients (except vanilla) and place the bowl over a saucepan of simmering water.
Whisk the mixture until it reaches 160 degrees using a candy or instant read thermometer.
Transfer the mixing bowl to your mixer, and with the whisk attachment, beat on high until stiff, glossy peaks form (about 6 minutes).
Whip in the vanilla. Frost cake immediately.
Enjoy!