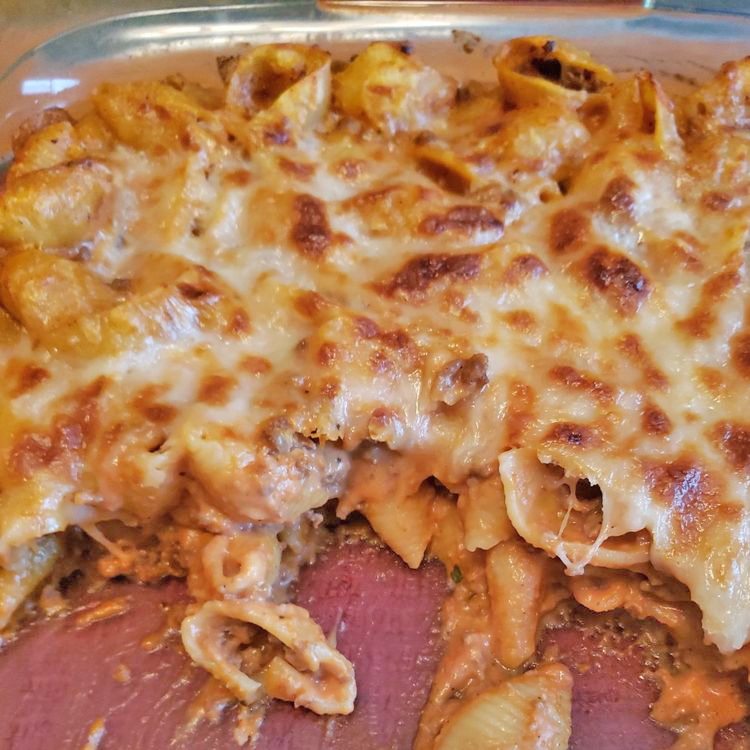 This was a great base recipe, all of the family really liked it, even my picky 10 yr old son ? I made a couple changes, just personal preferences. I added a good dose of Italian seasoning, Emeril seasoning, and used both fresh garlic and garlic powder. and skipped the corn I put all of the spices in with the meat and onions, placed it all in a bowl when it was done cooking, and used the same pot to boil the noodles. I cooked the noodles until tender, drained the water out, then -re-added the meat mixture back into the pot and cooked it for another few minutes, giving the flavors time to "meld" together. I added in all of the cheese, mixed it around, and cooked for anther few minutes and served it right up! So the entire dish was made on the stove top, I skipped the oven all together.
INGREDIENTS:
1 lb box medium shells
1 lb ground hamburger, cooked with garlic, onion, salt and pepper to taste
2 cans tomato soup
1 cup cheddar cheese
1 cup mozzarella cheese

INSTRUCTIONS:
Cook noodles according to package directions. Drain.
After browning hamburger, add 2 cans tomato soup to the frying pan (with the hamburger).
Add ½ can water.
Stir and cook over medium heat for 3 minutes.
Pour noodles in a greased 9×13 baking dish.
Pour hamburger mixture over noodles and stir.
Sprinkle cheese over casserole and cover with foil.
Bake in a 375* oven for 20 minutes.
Remove foil and bake for 10 minutes longer.
Can bake under broiler for 3-5 minutes to brown cheese, if desired.