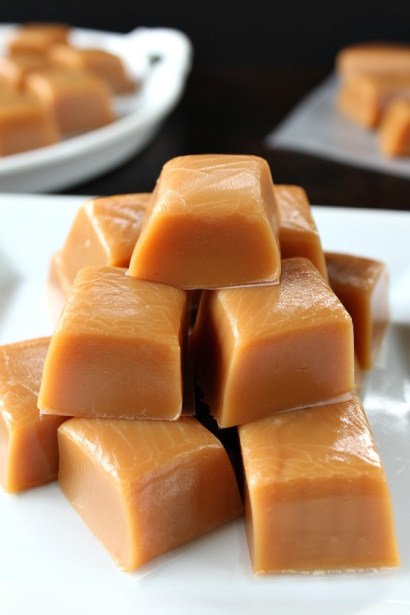 This homemade caramel is super delish! When is the last time you made some homemade caramel? This is absolutely so tasty and not very hard to make. This is my go-to recipe for delicious tasting caramel. This is also the perfect time of year to start getting your recipes ready for the holidays! Make sure to keep this one handy and start a family tradition like we have.
All I did was add some chopped pecans to the top. This is a versatile recipe, you can add walnuts, chocolate chunks or enjoy this caramel just as it is!
This is definitely our favorite caramel recipe above all others! Making this homemade caramel has been a family tradition for many, many years during the holidays. So soft, creamy and delicious is how I would describe this tasty treat!
I usually make this homemade caramel in a 9 x 13 glass baking dish. This time I decided to make it in an 8 x 8 glass baking dish so the pieces of caramel would be thicker. Either way, works well.
INGREDIENTS
1 cup butter
1 16 oz box of light brown sugar
Dash of salt
1 cup light corn syrup
1 14 oz can sweetened condensed milk
1 tsp vanilla
INSTRUCTIONS
In a heavy bottom pan, melt butter over low heat.
Once butter is melted, add brown sugar and a dash of salt. Stir thoroughly.
Next, add corn syrup and continue to stir.
Slowly add condensed milk, stirring constantly.
Cook over low heat and continue stirring constantly.
Once caramel starts to boil, continue cooking until the caramel reaches 230° and then start to test for "soft ball stage." This takes approximately 16-18 minutes to get to this point, all the while stirring constantly.
If you are unsure what "soft ball stage" means, get a small bowl of cold water and once the temperature reaches 220° drop a little caramel into the cold water and see if it feels soft, but somewhat firm between your fingers. This might need to be done a few times to get to the right temperature for the caramel. If it is too soft and doesn't form somewhat of a ball, continue cooking a little bit longer, stirring constantly. Keep testing for the firmness with the "soft ball stage" method. Once the caramel reaches the desired texture and temperature, remove from heat. Make sure the caramel's temperature does not reach beyond 240° because then your caramel will be too hard.
Once removed from heat, add vanilla and stir.
Pour caramel into a generously buttered 9 x 13 glass baking dish.
Once caramel has cooled, remove from baking dish and place caramel on a piece of wax paper. I use a long spatula that has been buttered so the caramel will not stick to it when removing from glass dish.
Cut into bite size pieces.
You can wrap the caramel individually in wax paper and twist up the ends, or place caramel in a container with wax paper between the layers.