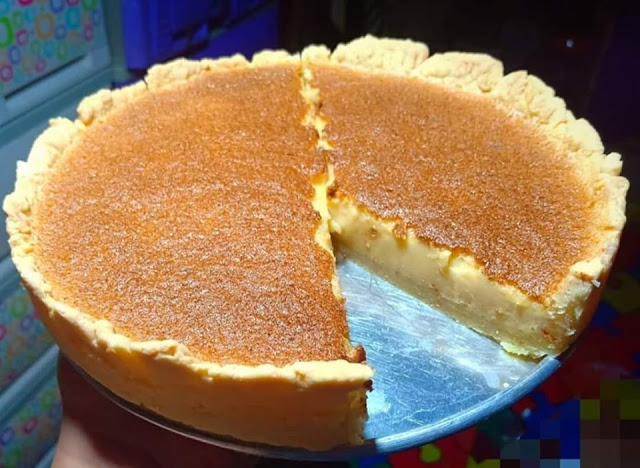 Buttermilk Pie is my nominee for this year's perfect party dessert awards. It's outrageously easy to make, the filling is luxuriously sweet and creamy on the inside with a lightly crackled sugar top, and despite being an old-fashioned, classic Southern recipe, it doesn't receive the notoriety it deserves.
I owe my appreciation for classic Southern desserts like buttermilk pie, last week's Old-Fashioned Sweet Potato Pie, and this famous Lemon Cream Pie to my grammy, who often made them growing up. Chess pie (a close relative of buttermilk pie) was one of her signatures.
If you've never had a classic southern buttermilk pie, please run to your kitchen and bake this recipe immediately. It looks unassuming, but every bite is positively luscious. The filling is velvety smooth and delicate with a rich, buttery flavor, which, as you might imagine, is dynamite when eaten from a buttery, flaky pie crust.
What is Buttermilk Pie?
Buttermilk pie is a classic, old fashioned southern dessert that tastes like a custard pie but is SO. MUCH. EASIER. to make.
Buttermilk pie tastes similar to crème brûlée. It's creamy, buttery, and delicate. In fact, fans of the shiny "lid" on top of crème brûlée (and the lids on pans of brownies) will be delighted to see that buttermilk pie forms a crackly top too. As with crème brûlée, one of life's great small pleasures is to crack your fork through the top of a buttermilk pie and into the creamy custard below.
Buttermilk pie is made of simple pantry ingredients (we're talking eggs, butter, sugar, flour), you beat up the filling in one bowl, and in one of baking's best magic acts, the filling transforms into a custard while the pie bakes in the oven, without the fuss of tempering egg yolks, heating milk, or any of the other unpleasant tasks typically associated with a custard pie.
Ingredients :
1 3/4 C. sugar
1 stick unsalted butter (1/2 C.) room temp.
3 large eggs
1/4 tsp. vanilla extract
pinch of salt
3 T. all purpose flour
1 C. buttermilk
1 9″ pie shell, unbaked
Directions :
Cream together the sugar and butter till well blended. Beat in the eggs, 1 at a time, until the mixture is nice and smooth. Add in the vanilla, salt and flour. Beat in the buttermilk until well combined. Place the pie shell on a baking sheet lined with foil (catches any overflow).
Fill the pie shell with the buttermilk mixture, just to the top of the shell. Pour any remaining into an ungreased custard cup. Bake at 300 degrees for 1 hour 10 minutes.  Remove from the oven and let set until almost cooled before serving. Store covered in the fridge.