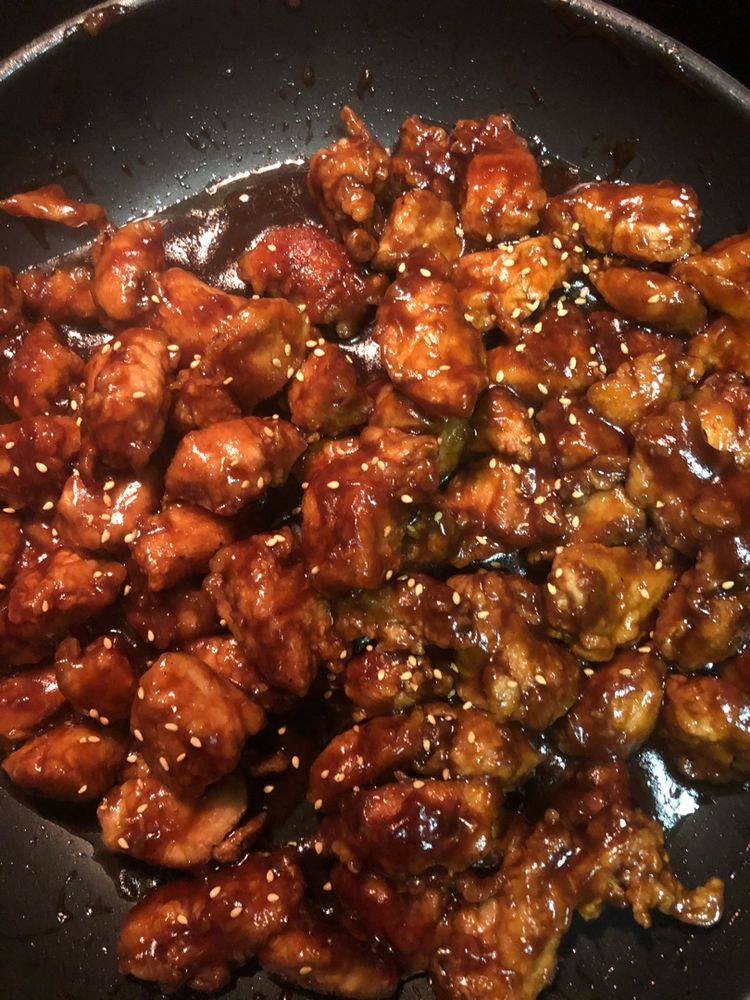 Super Easy One Pan Bourbon Chicken. Tastes so much better than the restaurant version! Serve with rice and noodles to make it a meal!
Bourbon Chicken
This Bourbon Chicken is so much better than the standard food court recipe! The chicken turns out tender, juicy and loaded with tons of sauce. The sauce is the perfect combination of sweet and savory. I like to double the sauce to have extra to serve over rice.
Best of all this recipe couldn't be easier. This Authentic Bourbon Chicken takes 20 minutes and only one pan. No marinating required. Simply cook the chicken, pour in the sauce, simmer and add in cornstarch and water to thicken up the sauce. That's it!
Ingredients
3 lbs boneless skinless chicken thighs
1 cup chop broccoli
1 red pepper and green pepper, sliced
3 tbsp. Cornstarch
Garnish with sesame seeds
Sauce:
1/2 tsp. Ginger paste
1 tbsp. Minced garlic
1/2 tsp. crushed red chili flakes
1/3 cup apple juice
1 1/2 tbsp. honey
1/4 cup brown sugar
1/4 cup ketchup
3 tbsp. cider vinegar
1/4 cup water
1/4 cup Bourbon
1/4 cup soy sauce
salt & pepper to taste
Instructions
Prep your chicken and pat dry, set to the side.
Add your apple juice, Bourbon, soy sauce, brown sugar, ketchup, honey, crushed red pepper flakes, fresh garlic, and ginger to your Instant Pot.
Mix to combine.
Place your chicken into the instant pot, toss to coat in the bourbon mixture.
Add the vegetables to the Instant Pot on top of the chicken.
Secure the lid to your pressure cooker, and turn the release valve on top to sealing.
Set the Instant Pot on manual.
Set the timer for 12 minutes.
In a small bowl mix your cornstarch and cold water.
Set aside.
Once the chicken is done cooking, allow it to naturally release for 5 minutes.
Then do a quick release.
Remove the chicken and vegetables and set to the side.
Eave remaining sauce in the Instant Pot.
Turn your Instant Pot to saute and slowly add in the cornstarch mixture.
Using your whisk, mix until thickened.
Return chicken and vegetables to the sauce.
Turn the instant pot off.
Top with sesame seeds and enjoy!