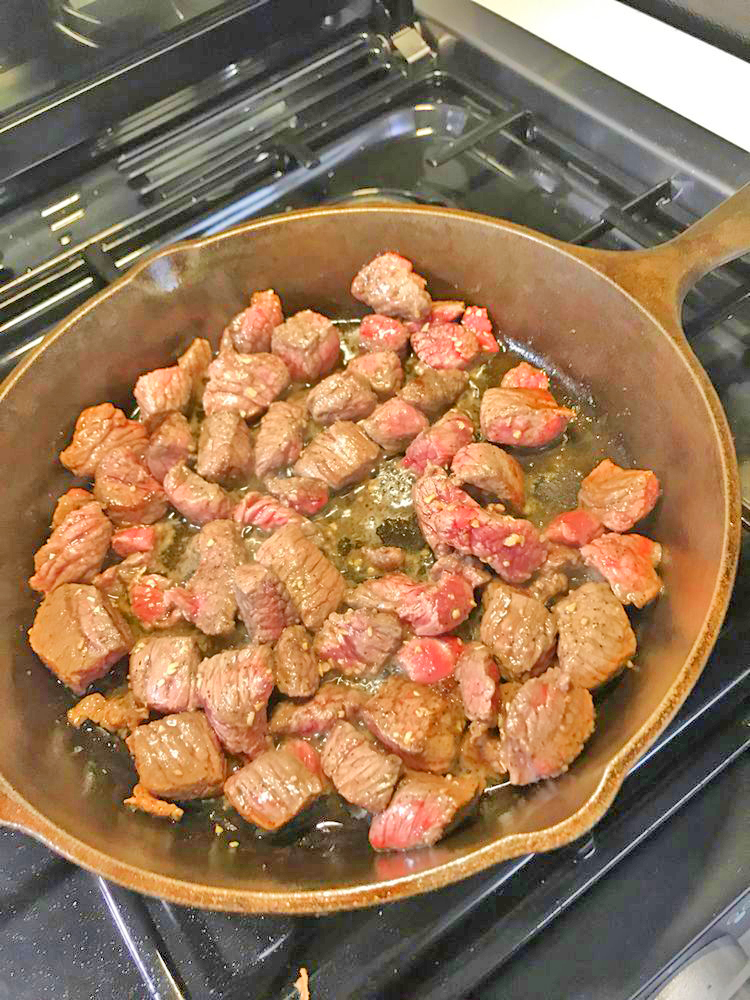 These seared Garlic Butter Steak Bites pack so much flavor and are so easy to throw together! The best part? They're ready in 15 minutes!
You know what's better than a 30 Minute Recipe? A 15 Minute Recipe! Seriously! This 15 Minute Recipe is for the meat lovers out there! Lots of delicious steak bites smothered in a yummy garlic butter sauce! Have I piqued your interest yet?
You know what else? It's all in one skillet! I live in Alberta, so we love our steak here and I'm no exception. I love a good steak, but I also love steak bites, because they're so full of flavor and so easy to prepare. These bite size pieces of steak look fancy if you're throwing a party, just spear them with toothpicks and watch them disappear.
Ingredients
2 lbs sirloin steak, Ribeye or porterhouse- cut into bite size cubes
4 cloves of garlic, minced
1 tsp salt
1/3 cup beef broth
1 tsp onion powder
1 tsp black pepper
2 tablespoons olive oil
1/2 tsp brown sugar
5 tablespoons butter
2 tbs fresh parsley
Instructions
In a large semi deep skillet, heat the olive oil over high heat. (Make sure the pan is very hot)

Season the cubes of steak with salt, pepper, onion powder and brown sugar then drop into the hot skillet in a single layer (do a second batch if your skillet is not large enough)

Cook the bites for roughly 3 minutes, mixing until cooked to your liking
Remove from heat and add in your garlic, parsley and butter and broth then mix and return to the stove on a low heat , mixing for about 4 minutes.
serve hot!
ENJOY!