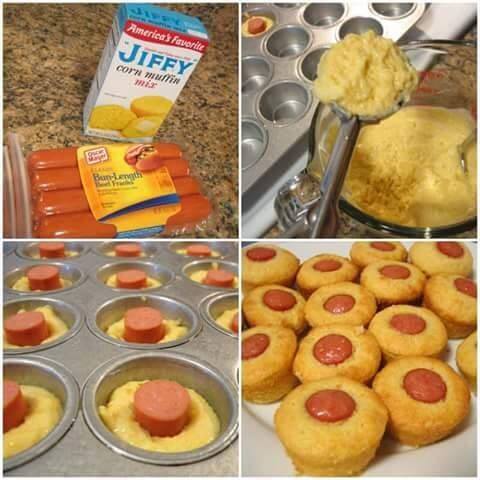 Bypass the freezer aisle and whip up a DIY recipe for Easy Homemade Mini Corn Dogs perfect for dipping and dunking!
The humble hot dog can be many a wondrous snack, especially when it goes beyond the bun. While Everything Puff Pastry Pigs In a Blanket have been a mealtime game-changer around here, it was time to tackle a DIY spin on a deep-fried delicacy I grew up eating regularly while making the rounds at mall food courts: corn dogs!
The setup couldn't be more simple for this snack-sized spin on homemade corn dogs.
A quick-fix cornmeal batter, made with just a handful of fridge and pantry staples, comes together in minutes. Then it's time to choose your hot dog (or cocktail weenie!) and grab the skewers, which can be lollipop sticks or Popsicle sticks.
INGREDIENTS
1/2 cup melted butter (or 1/4 cup butter + 1/4 cup unsweetened applesauce)
1/4 cup Truvia Baking Blend
2 eggs
1 cup buttermilk (regular milk is fine)
1/2 teaspoon baking soda
1 cup cornmeal
1 cup all purpose flour
1/2 teaspoon salt
8-10 all-beef hot dogs, cut into 1″ bites
INSTRUCTIONS
1- Preheat oven to 375 degrees. Combine butter and sugar in a bowl, and whisk to combine. Add eggs and whisk to incorporate. Add buttermilk and whisk to incorporate.
2- In a separate bowl, combine baking soda, cornmeal, flour, and salt, and stir to combine. Whisk into wet ingredients in two batches.
3- Spray a mini muffin tin with non-stick spray, and spoon 1 Tablespoon of batter into each mini muffin cup. Place one hot dog bite into the middle of each cup.
4- Bake for 8-12 minutes, or until cornbread is golden brown. Cool in mini muffin tin for 5 minutes before serving. Store leftovers in the refrigerator, and re-heat for 20-30 seconds before serving.