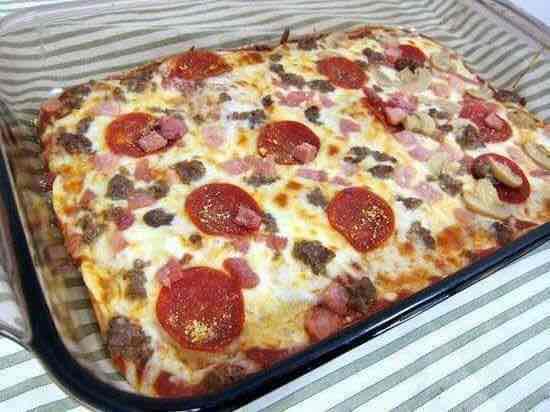 Trying to eat "healthy", (which let me say is impossible during summer!) makes it hard to find different recipes. Derek found this pizza recipe he required from one of his co-workers called, "No Dough Pizza."
Really, no dough? That cannot taste good. I am a sucker for pizza. Grease, stuffed crust, toppings galore, endless cheese, are all on my list. I was very interested in seeing how this would taste and look with no dough. So we bought the ingredients and made it. I was surprised with how easy, cheap and quick this recipe is. I thought it might take awhile, making some type of crust to assemble the pizza. Luckily, it was made in no time and baking in the oven. We decided to play it safe and have pepperoni for the toppings, with extra cheese!
It was flimsy at first,  so we baked it longer in the oven and made sure to give it enough time to cool. This helped a lot because the pizza hardened and was not as thin. The taste was shockingly very good. Not dry at all and the cream cheese added a flavorful taste. I was pleased with how well this turned out. It fills the craving of pizza and is so much healthier than ordering out!
This is a great gluten free, low carb, diabetic pizza recipe…it is worth a try!
Gluten Free, Low Carb, Diabetic Friendly!!!!!!
For when you absolutely want pizza but not all the carbs!!!!!!!
Crust
1 (8 oz) package of full fat cream cheese, room temperature
2 eggs
1/4 tsp ground black pepper
1 tsp garlic powder
1/4 cup grated parmesan cheese
Topping
1/2 cup pizza sauce
1 1/2 cups shredded mozzarella cheese
toppings – pepperoni, ham, sausage, mushrooms, peppers
Garlic powder
Preheat oven to 350.
Lightly spay a 9×13 baking dish with cooking spray. With a handheld mixer, mix cream cheese, eggs, pepper, garlic powder and parmesan cheese until combined. Spread into baking dish. Bake for 12-15 minutes, our until golden brown. Allow crust to cool for 10 minutes.
Spread pizza sauce on crust. Top with cheese and toppings. Sprinkle pizza with garlic powder. Bake 8-10 minutes, until cheese is melted.