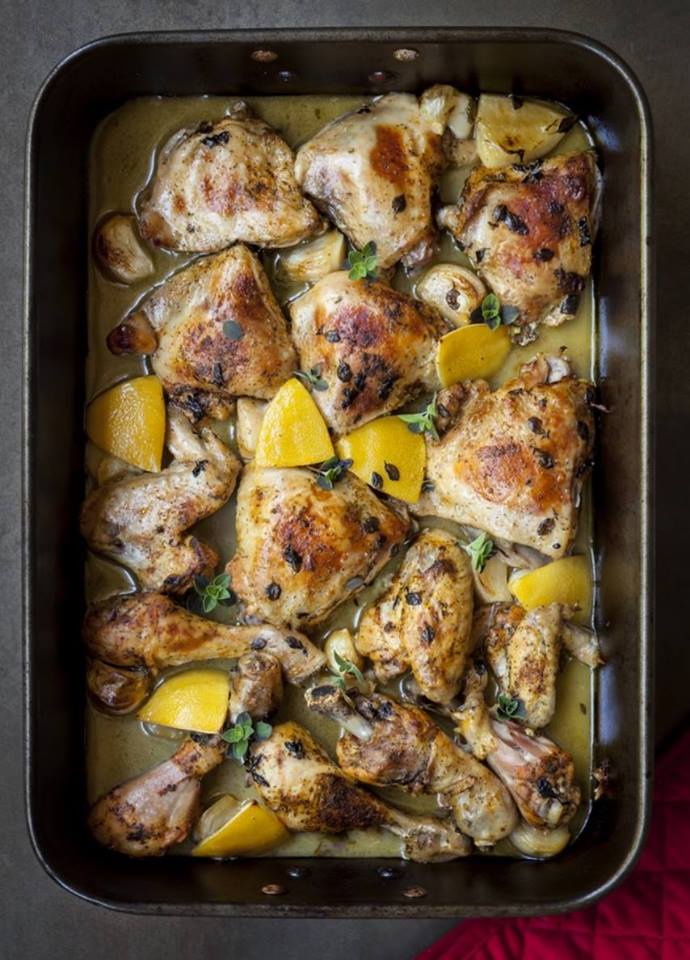 Because it's so easy and so darn delicious, this is a dinner that makes an appearance at our house rather frequently. The flavor of the lemon, garlic, and thyme with the moist and flavorful chicken is just superb. It all bakes up in one pan, and it's hard to believe that a dish with that many layers of flavor took little more effort than tossing some stuff in a baking dish and sliding it in the oven.
Olive oil and white wine form the base of the sauce and as it all bakes, the juice from the chicken comingles with those two to create something that tastes like a carefully concocted pan sauce. Lemon keeps things bright, while the garlic takes on a sweet and mellow flavor in the oven and the thyme lends a floral-piney quality. It all works together so well.
We like to use bone-in, skin-on chicken because it's more flavorful and we never have to worry that it will dry out. To crisp up the skin a bit more, you can leave the pan under the broiler for a couple of minutes at the end of the cooking time. It's great served with some quick polenta or mashed potatoes on the side; they soak up all that wonderful sauce!
45 minutes to prepare serves 6-8
INGREDIENTS
3 lbs bone-in, skin-on chicken pieces (thighs, wings, breasts)
1/4 cup extra virgin olive oil
1/3 cup white wine
2 lemons, halved and quartered
8-10 cloves garlic, whole
1-2 tablespoons fresh thyme
Kosher salt and freshly ground pepper, to taste
PREPARATION
Preheat oven to 400°F and set aside a 9×13-inch baking dish.
Whisk together the white wine, thyme, and olive oil and pour into the bottom of the baking dish.
Pat the chicken dry and season liberally with salt and pepper. Place chicken skin side up in baking dish and arrange lemons and garlic around it.
Bake until chicken is cooked through, 30-40 minutes. If you'd like crispier skin, broil until browned, 2-3 minutes.
Remove from oven and let rest 10 minutes. Spoon the sauce over the top of the chicken before serving. Enjoy!