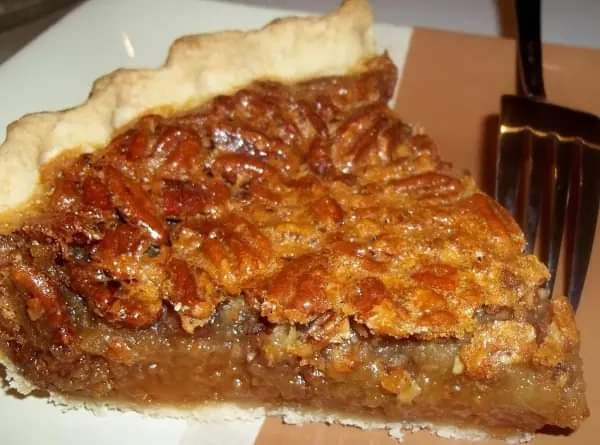 My homemade pecan pie is classic and simple with an unexpected dash of cinnamon. It's the perfect combination of sweet and salty– after one bite you'll taste why it's my favorite!
Today I'm bringing one of my classic recipes back to life with a new video and plenty more recipe success tips. I posted this recipe exactly 4 years ago!
Pecan pie is the classic sugary dessert without which no Thanksgiving is complete. It's as traditional as pumpkin pie and as wonderfully rich as apple pie. Growing up, my family's Thanksgiving dessert table always included (and will always include) my late grandmother's old fashioned pecan pie recipe. It's a true honor to share her recipe and I hope this recipe lives on forever in her memory.
INGREDIENTS :
1 pie crust, homemade or store-bought (plus extra dough for decorating, optional)
1 1/2 cups brown sugar
1/2 cup white sugar
3/4 cup (1 1/2 sticks) unsalted butter, melted and browned (optional)
3 large eggs
1 1/2 tablespoons all-purpose flour
1/2 teaspoon salt
1/2 teaspoon cinnamon
1 1/2 tablespoons heavy cream
2 teaspoons vanilla extract
2 cups pecans, plus extra for garnish
PREPARATION :
Preheat oven to 375º F and roll out pie crust to a 12 or 13-inch circle, big enough to fit a springform pan or tart or pie dish.
Gently place dough in pan, pressing into the bottom and sides of pan and trimming excess.
Optional: cut out pie dough flowers or other designs to decorate crust later.
Place pie dish in fridge until ready to fill.
In a large bowl, beat eggs until foamy and fluffy, then beat in browned butter.
Once combined, beat in brown and white sugar until sugar granules are dissolved.
Sprinkle in flour, cinnamon and salt, then stir in heavy cream and vanilla extract.
Once fully incorporated, fold in pecans, then pour mixture into pie crust.
Decorate pie crust with any pecans or cut outs you made earlier.
Place pie pan in oven and bake for 40-50 minutes, or until center is just set and no longer jiggly.
Remove from oven and let cool completely before serving.