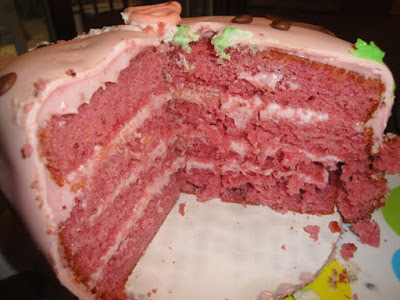 Sweet, delicate and delicious. Fresh berries might just be one of the best perks that summer has to offer. Besides the extra long days filled with sunshine, family roadtrips and endless opportunities to BBQ, that is. With strawberry season in full swing, there's no better time for today's featured cake recipe. A decadently-dense cream cheese pound cake, while perfectly delightful all on its own, surprises us with an extra touch of something sweet — strawberry glaze. Yes, little swirls of strawberry glaze are baked up right inside this cake, adding a little pop of red and a whole lot of flavor, taking this cake recipe from everyday to special day. It would delight mom this Mother's Day or make a beautiful centerpiece at your Memorial Day celebration.
It comes to us from the new book, Simply Sweet ColorCakes, a collection of wow-worthy desserts anyone cake make. This handy book includes over 125 colorful cakes, cookies, cupcakes and more — all featuring vivid colors and and eye-catching presentations. Inside the pages you'll find everything from the traditional rainbow cake to an orange ombre cake, tie-dyed cupcakes, vibrant bar cookies, cake pops of every color and more. Perfect for summer party season, you'll find oodles of inspiring ideas paired with helpful shortcuts, keeping project time at a minimum, enabling you to easily recreate these ideas at home. Whether's its bold color you crave, or something more subtle like today's recipe, Simply Sweet ColorCakes has you covered.
Ingredients:
2 packages (10 ounces each) frozen sweetened sliced strawberries, thawed
1 cup butter
2 cups sugar
4 eggs
3 cups all-purpose flour
1 teaspoon baking soda
1/2 teaspoon baking powder
1/2 teaspoon salt
2/3 cup buttermilk
1/2 cup chopped pecans optional
1/4 teaspoon strawberry extract
STRAWBERRY SAUCE:
1 1/2 cup confectioners sugar
1/2 cup sliced fresh strawberries
1/2 teaspoon vanilla extract
1/4 teaspoon strawberry extract
1/2 cup butter
Instructions:
Drain strawberries, reserving 1/2 cup juice. Chop the strawberries; set juice and berries aside.
In a large bowl, cream butter and sugar until light and fluffy. Add eggs, one at a time, beating well after each addition. Combine the dry ingredients; add to creamed mixture alternately with buttermilk and mix well. Stir in the pecans, chopped strawberries and extract.
Pour into a greased and floured 10-in. fluted tube pan. Bake at 325° for 1-1/4 hours or until a toothpick inserted near the center comes out clean. Cool for 10 minutes; remove from the pan to a wire rack.
In a small saucepan, combine the butter and reserved strawberry juice. Add the sliced strawberries. Bring to a boil; cook and stir for 1 minute. Remove from the heat; stir in extracts and confectioners sugar. Glaze warm cake.