Ham and Cheese Sliders – Baked juicy ham and Swiss nestled in soft Hawaiian rolls and brushed with a buttery Dijon, onion, and poppy seed topping!! Fast, EASY, and a party FAVORITE!!
Fast, Easy, Perfect For Parties and Snacks
If you're in need of an easy comfort-food recipe for tailgating, holiday parties or events, or an after-school snack that everyone loves, this will do the trick.
Baked juicy ham and Swiss cheese nestled in soft, sweet Hawaiian rolls with a buttery Dijon, onion, and poppy seed topping.
Hawaiian Bread For The Win
Hawaiian bread is one of my all-time favorite kinds of bread and it's absolutely perfect for the sliders.
It stays soft and tender in the interior and while the base of the sliders have an ever-so-slight crispiness from the buttery mixture that drips down during baking.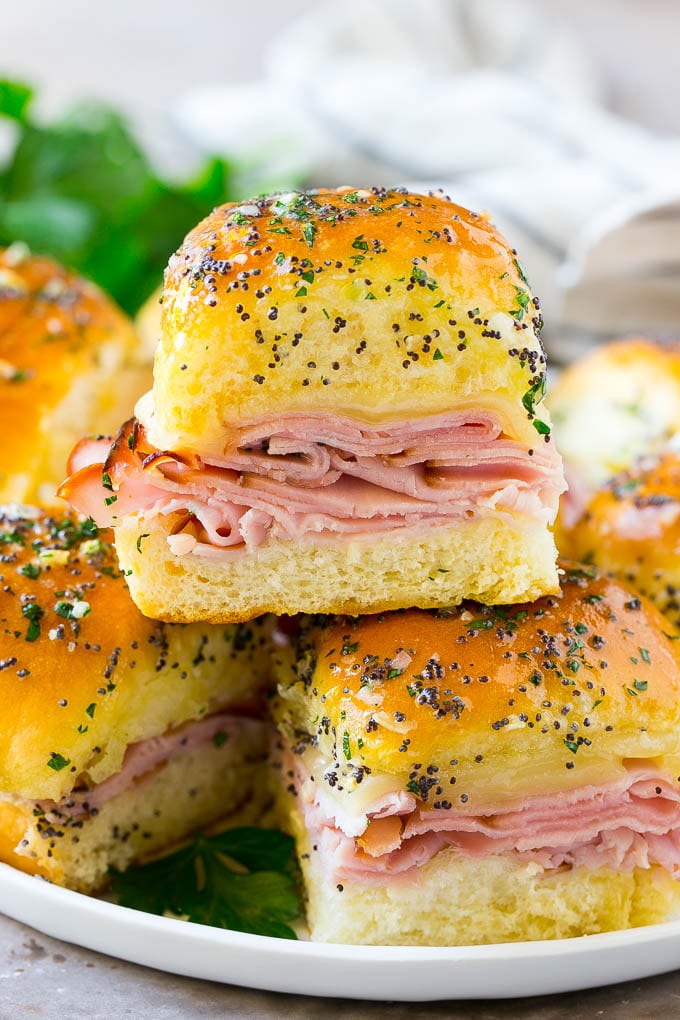 Raise your hand if you love sandwiches! My family happens to adore sandwiches, especially when they're bite sized like these delicious ham and cheese sliders. I make these tasty snacks for parties, game day, or even for an easy dinner option.
HOW DO YOU MAKE HAM AND CHEESE SLIDERS?
The first step is to choose your slider rolls. For this recipe, I recommend using Hawaiian buns. The sweetness of the Hawaiian bread goes perfectly with the natural sweetness of the ham. The rolls are topped with ham and swiss cheese, then brushed with a savory butter and baked until the cheese is melted and bread is toasted.
The seasoned butter is a mixture of poppy seeds, mustard, minced dried onion and Worcestershire sauce. I know not everyone has a jar of dried onion in their spice cabinet, so you can substitute a pinch of onion powder if need be.
HOW LONG DO YOU COOK HAM AND CHEESE SLIDERS?
These sliders take about 20 minutes to bake in the oven. You'll want to cover your sandwiches so that the tops don't burn while you're waiting for the cheese to melt. After the cheese has melted, you can uncover your sliders and let them bake for a few more minutes until golden brown.
TIPS FOR HAM AND CHEESE SLIDERS
Not a fan of ham? Try sliced turkey instead!
You can use any variety of ham – I typically use honey ham or smoked ham, the key is to make sure it's thinly sliced.
I use swiss cheese because it's classic, but you can absolutely try a different type of cheese. Other great options are cheddar, mozzarella, jack cheese or provolone.
These sandwiches can be assembled up to 4 hours in advance. Store them covered in the fridge until you're ready to put them in the oven.
Ham and cheese sliders are best eaten immediately after they come out of the oven.
HAM AND CHEESE SLIDER VARIATIONS
While ham and cheese are a perfect pairing on their own, you can add more ingredients to these sliders to adapt them to your taste preferences.
Spicy: Add a layer of pickled jalapenos in between the ham and cheese.
Club: Add turkey and bacon to the sandwiches.
Italian: Use provolone cheese and add sun dried tomatoes and artichokes.
This recipe as written makes 12 sandwiches, I find that most people eat about 2 sliders. You can easily double or triple the recipe to feed a crowd.
Ham and cheese sliders are a welcome addition to any gathering. The seasoned butter really takes these sandwiches over the top and turns them into something special!
WHAT YOU NEED:
1/2 cup (1 stick) butter, melted
1 tablespoon honey mustard
1 tablespoon minced dried onion
2 teaspoons Worcestershire sauce
15 King's Hawaiian rolls
1 pound thinly sliced ham
About 10 slices Havarti cheese
HOW TO MAKE THIS :
1. If you are preparing this to eat right now, preheat your oven to 350 degrees F. Spray a 9×13-inch baking dish with nonstick spray.
2. In a medium bowl, whisk together the butter, mustard, onion and Worcestershire sauce.
3. Slice the rolls in half. The easiest way to do this is if you open the package and slice the entire chunk of rolls in half while they are still stuck together. Pull apart the bottoms of the rolls and place them in the prepared dish. Fold up pieces of ham to fit the rolls and place them on the bottom halves of the rolls. Layer a piece of cheese next, then more ham, then more cheese. Place the tops of the rolls onto the sliders. Drizzle a teaspoon of the buttery mixture over the top of each roll. If you have some of this mixture left over, you can make a few more sliders. Otherwise, drizzle the rest of the mixture over the tops of the sliders.
4. If baking now, place in the oven and bake for about 20 minutes- until the sliders are warmed, the cheese is melted and the tops of the rolls are lightly browned. If baking tomorrow, cover the pan with a sheet of greased foil and refrigerate. The next day, bake for 20 minutes with the foil on, then remove the foil and bake for an additional 10 to 15 minutes. Serve immediately!
Last step: Don't forget to share!!